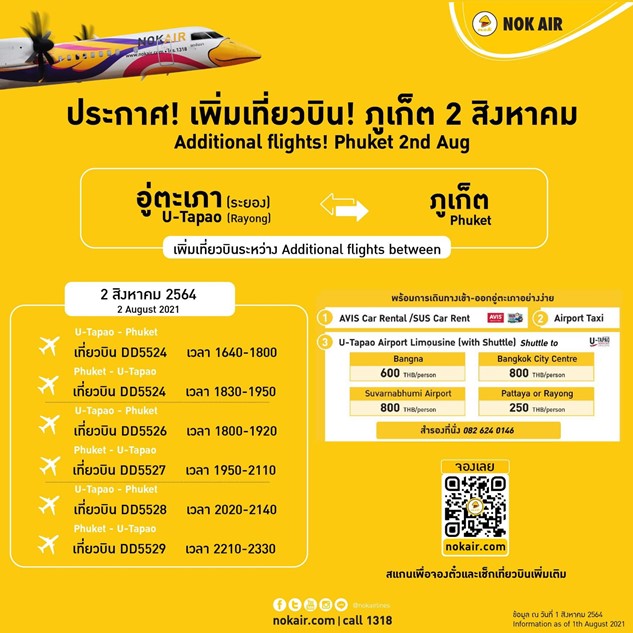 Both Thai AirAsia and Nok Air say all flights will be canceled throughout most of August after the latest announcement from the CCSA today regarding continued and extended lockdowns in dark red zones.
Both airlines admit it is not possible to run an airline, or to have regular flights, when much of the country is locked down.
Particularly as, in order to run flights, airlines must be able to make a minimal profit. In this case, profits would be non-existent should flights continue to run.
Nok Air has, therefore, announced all domestic flights will be canceled from August 3rd throughout most of August. However, they will be adding additional flights on August 2nd, 3rd and 4th to allow as many people as possible to leave Phuket if they wish to before that island shuts down its borders this week.
The airline will also set up land transfers from U-Tapao airport on Phuket to Bangkok.
After that, however, anyone currently in the Phuket Sandbox and planning to travel to elsewhere in Thailand is likely to be stuck on Phuket until at least the end of August.
The similarly beleaguered Thai AirAsia has also said all flights and all airline operations will be shut down through at least August.
This will not only negatively impact potential passengers, but also Thai AirAsia staff. Most of whom were supposed to receive just 50% of their salary last month, and now will not receive any salary until at least September.
It does appear, however, Thai AirAsia has been quite smart with its closures, with the possible plan of "If they (the government) want these lockdowns, let them pay for the consequences" their ultimate goal.
After all, if the airline is shut down, employees are then eligible for social security assistance.
This could feasibly get Thai AirAsia off the hook financially for at least the next month, while throwing the onus on the government of Prayut Chan-o-cha to take care of its workers.