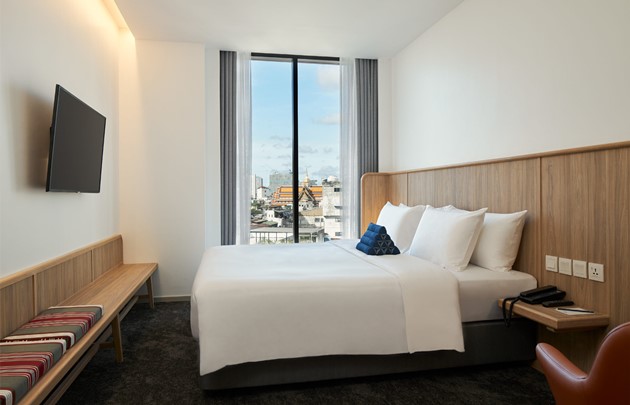 Thai hotel chain Dusit International will open its first ASAI Hotel this month with the opening of ASAI Bangkok Chinatown on September 15th.
The hotel is located in Bangkok's Chinatown district on Charoen Krung Road, close to the main Yaowarat Road and its iconic temples, markets, seafood restaurants, hidden bars and shops.
The hotel calls its rooms 'compact' although, even the smallest at 19 square meters, is quite spacious compared to many other Bangkok hotels.
Rooms also come with a Queen-sized bed, 43 inch flatscreen TV, a working station, a safe box, a luggage and clothing rack and free Wi-fi.
At only 1,275 baht ($42) per night through the end of October, 2020, that is an extremely affordable rate for such a lovely hotel.
The ASAI Bangkok Chinatown features 224 rooms, and will be one of 37 properties Dusit International currently operates in Thailand.
Six other ASAI hotels will also be opening in coming months.
ASAI is the sixth brand of the Dusit International chain, following onto Dusit Thani, Elite Havens, Dusit Devarana, Dusit Princess and dusitD2 and is a mid-market brand that is hoping to woo guests that enjoy a slightly upscale lifestyle without having to pay an upscale price.
Sadly, however, this does not seem to be the optimal time for Dusit International to be launching an ASAI hotel given that Thailand is still locked down to 99.9% of international visitors and domestic tourists are not traveling in large numbers.
With the Thai government's panic about COVID-19 continuing, that is likely to continue through the end of 2020 and into 2021 leaving hotels like the ASAI Bangkok Chinatown potentially struggling to find guests.
Dusit International is also opening another ASAI hotel in Thailand in the next 12 months. That one will be located in Bangkok's Sathorn business district.
Other hotels in the group that are expected to open in 2021 are in Yangon, Myanmar, Kyoto, Japan and Cebu, Philippines.
As these countries are very likely to open up to international visitors before Thailand, if things continue as they are, they may be the better bet for Dusit International for the short-term.
Meanwhile, if you are able to get to Bangkok and looking for a very nice hotel at an affordable price, you can find more information about the ASAI Bangkok Chinatown, and book a room, on the hotel's official website.