With tens of thousands of foreigners choosing Thailand as one of the best places from which to work remotely every year, at least before the Covid-19 crisis began and most of them left, it is probably not surprising Bangkok has just been named the worlds' #1 'workation' city for 2021.
Bangkok topped the list of workation cities in a new survey by British vacation rental search engine Holidu this month.
They say Bangkok is the #1 workation city due to its affordable cost of living, many multinational corporate offices, high level of English proficiency, a wide range of interesting places to visit, excellent Wi-fi speeds and a slew of world-class facilities.
Along with Bangkok in the #1 spot, if you prefer to work close to a beach, Phuket also came in at 10th place in the survey.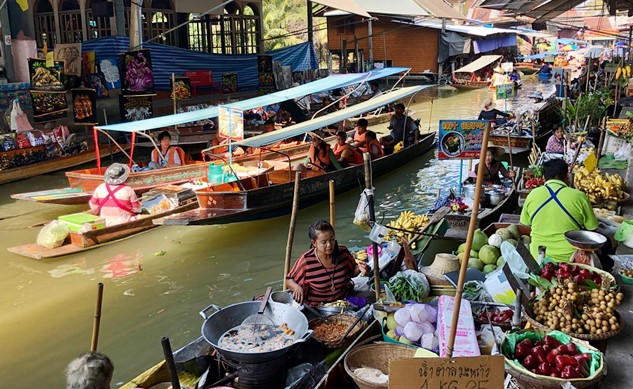 What is a workation?
As for what a workation actually is — it is a relatively new term combining the words 'work' and 'vacation' — and is being used by those who prefer to not work in typical office environments, but instead like to combine their work with a little pleasure.
This can be a few days, a week, a month or even permanently for a lucky few.
Things the survey looked at when it came to Bangkok as the #1 workation city were the cost of renting an apartment in the Thai capital city, the price of food — both groceries and eating out, the cost of after work drinks and even the cost of cultural events.
Of course, in Thailand's current Covid-19 situation, few are considering a workation in Bangkok or Phuket any time soon.
Even when Covid-19 cases fall, with the Thai government continuing to talk about the need for permanently wearing masks when around other people, constant social distancing, and the banning of events that may become crowded, it remains to be seen whether Bangkok will be the world's #1 workation city for long.
After all, most people want to work in a place that is fun, relaxing and stress-free, and where they can freely meet people and make new friends, and not one in which they are suffocating under masks all day, or being forced to socially distance from most people around them.
Should the Thai government become more chill about Covid-19, however, as let's face it the virus is with us permanently, and get things back to normal, yes, Bangkok could be the world's #1 workation destination for years to come.
After all, it is an amazing city.