As Thailand's students become angrier about the lack of democracy in Thailand, and the continual rule of a pro-military government many believe was elected via a rigged election, a massive pro-democracy protest is now underway at Bangkok's Sanam Luang.
Many thousands of Thai students are settling in for two days of peaceful protest against the military government, asking for its removal and replacement with one that is truly democratic.
Protesters are also demanding a new constitution, the cessation of the harassment and arrest of activists, and reform of the Thai royal family.
Massive student protest underway in Bangkok on Saturday, 19th September, 2020
The day began in Bangkok on Saturday with many students starting their protest at Thammasat University. Thammasat was chosen, of course, as it was the scene of the massacre of more than 100 protesting Thai students by police and  right-wing paramilitary groups in 1976.
Other protesters fanned out and headed to Sanam Luang, the grassy public area outside the Grand Palace.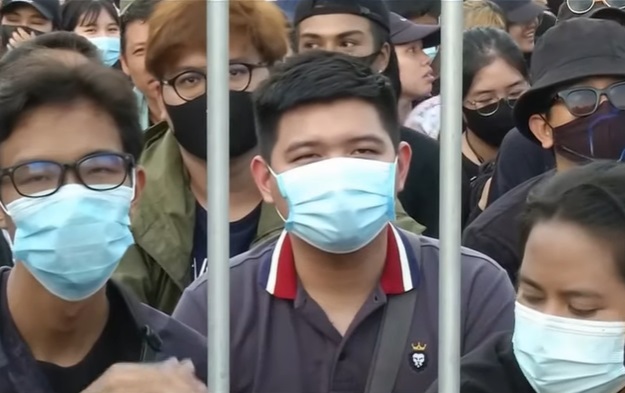 Reports from both Thammasat and Sanam Luang also suggest thousands of United Front for Democracy against Dictatorship (UDD) supporters (once known as Red Shirts) have also joined the protests.
Thai police did try to keep the demonstration contained initially, but protesters quickly broke down barriers and spread beyond the designated protest area. Thus quickly proving they will not be dictated to by either police or the government when it comes to where or how they protest.
It is currently just leaving 8:30 pm in Thailand, and protesters are now settling in for the night. A night that promises to be quite wet due to Tropical Storm Noul currently hanging over the southeast Asian country.
Meanwhile, protest leaders estimate 100,000 people are now at the protests sites, although police say the number is closer to 20,000. The true number is probably somewhere in the middle.
Speeches from protest leaders are expected to begin at 9pm Bangkok time — with crowds likely to grow even larger by that time.
An anti-dictatorship march is also planned by the students for Sunday morning at 8am, although there is no information yet as to where protesters will march to.
At one point, the march was planned to end at Government House but, after Thai police and security officials began to put strict anti-protest measures in place in that location, the final destination of the march has now been changed.
Protest leaders say the march route will be announced tomorrow morning right before it begins.
1 million Thai hotel workers laid off in 2020 — that's not the end as Thai tourism industry in danger of collapse
Meanwhile, activist Panupong Jadnok stressed to news media at the scene the protest will be peaceful and that any violence that occurs during it is likely to be from what he calls "third hands", ie: people affiliated with the Thai government or with the pro-royalist movement attempting to cause trouble so that the protests can be labeled 'violent'.
Prominent politiciansMove Forward Party leader Pita Limjaroenrat and former Future Forward leaders Thanathorn Juangroongruangkit, Piyabutr Saengkanokkul and Pannika Wanich have also been seen joining the protests, which suggests these protests could become even larger as the hours pass.