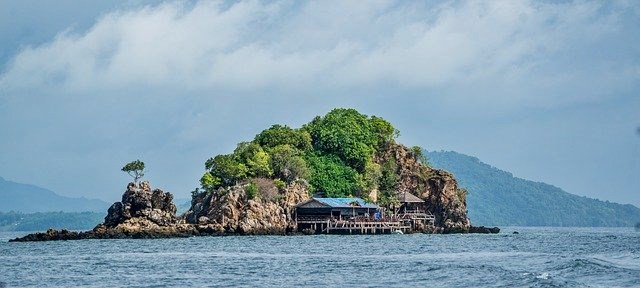 When I first moved to Thailand, I knew the country was approximately 520,000 square kilometres (513,122 km² actually), as the country is just a little larger than Spain. What I did not know is quite a large percentage of that land is made up of islands.
How many islands does Thailand have, which are the largest and which are the most popular to visit?
Like me, you will probably be quite surprised when you find out.
How many islands does Thailand have?
Officially, there are approximately 1,430 islands off the coast of Thailand, both in the Andaman Sea and in the Gulf of Thailand. Yes, 1,430 islands.
Some of these islands are little more than a few square meters of limestone rocks jutting out of the ocean while others are over 150 square kilometres in size.
The largest islands of Thailand in order of largest to smallest are: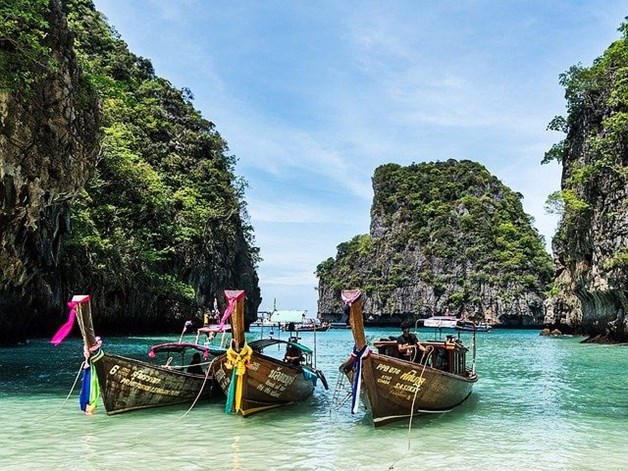 Which are Thailand's most popular islands to visit? 
While hundreds of Thailand's islands get regular visitors, especially at the height of the tourist season when international travelers descend in droves for swimming, sunbathing, diving and sailing, there are some that are the most popular islands to visit and the most famous.
These islands get millions of tourists every year.
Phuket is probably Thailand's most well-known island and its most visited. Around 5.5 million tourists visit the island every year, for its scenic beaches, mountains, temples and tourist attractions, as well as its superb shopping and dining opportunities.
Only an hour and 20 minutes by plane from Bangkok, Phuket is also easy and inexpensive to get to and with both high-end luxury hotels and cheap guest houses for accommodation, it suits anyone's budget.
Phuket also has a plethora of fun day trips to take, many by boat, including a visit to James Bond Island (aka Khao Phing Kan) to see where scenes from the movie The Man with the Golden Gun were filmed. Sure, the island is a little cheesy and touristy when you get there, but the long boat ride to it is breath-taking.
Koh Samui
If you are looking for true tropical beauty, Koh Samui is the place to head.
Famous for its long white sandy beaches, blue clear water and perfect diving spots, Koh Samui attracts both those looking for a quiet retreat for a few days and those looking for a party. Both sets of people will find exactly what they enjoy the most.
Koh Samui is less wild than many other Thai islands, and much more pristine, but that does not mean its beauty is bland or too manicured.
With five million people visiting the island each year, it is also almost as popular as Phuket as it also has gorgeous temples, awesome shopping and thousands of superb places to eat from high-end restaurants to shacks on the beach.
Flying to Koh Samui from Bangkok takes around 10 minutes less than from Bangkok to Phuket.
Koh Chang (Elephant Island)
Not too surprising really, all three of Thailand's most popular islands are also its largest.
Koh Chang is the third island in the group of islands the largest percentage of tourists visit, and also the country's third largest.
People tend to love Koh Chang because it is quieter than the other two islands, it offers some of the best diving in the world and its many waterfalls are stunning.
While it has a myriad of things to see and do, and all the amenities, the island also has a relatively low permanent local population compared to Phuket and Koh Samui. That number feels even more during low season.
If you are looking for an island that offers plenty to do, however, but is not as hyped and touristy as both Phuket and Koh Samui, Koh Chang is likely to please.
Koh Chang is also one of the closest islands to Bangkok, with a typical flight taking between 45 and 55 minutes.
Be aware though, it can take quite a while to drive from the airport to where you are staying — in some cases, almost double the amount of time it takes to fly to Koh Chang from Bangkok, so plan accordingly.
And now you know how many islands Thailand has and which are the largest.