Thai firefighter catches snakes with his bare hands, even poisonous ones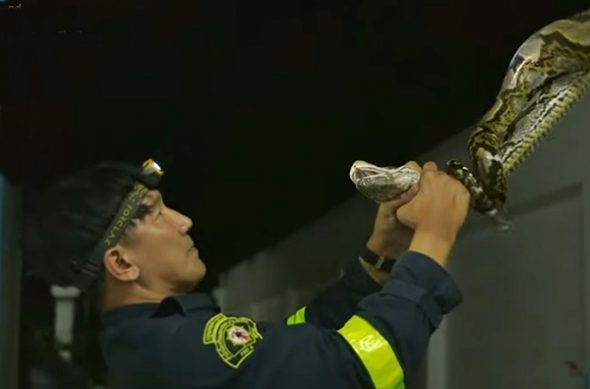 In my 15-plus years living in Thailand, I have met several Thais that will fearlessly catch snakes with a net or a stick.
50-year-old Thai firefighter Pinyo Pukpinyo, who was profiled in a South China Morning Post story this week, however, catches snakes in a different way than any Thai I know.
He just walks up to them, grabs them by the throat and manipulates them until he can put them into a sack or a box.
He then safely removes them from the premises of the homeowner or business that called him, and makes sure they are released safely.
The Bang Khen fire station where Pinyo Pukpinyo works gets more than 3,000 calls every year asking for the fire service to help capture and remove a snake that has been discovered in a home or a business.
Khun Pinyo is often the firefighter that is sent to do this, as he has a special affinity for snakes most of the other firefighters at the fire station do not.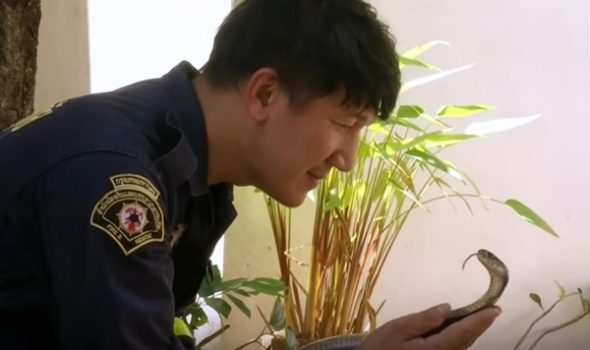 Khun Pinyou says he has caught around 10,000 snakes during his 16 years on the job and, while 70 percent of the ones he has caught were not poisonous, 30 percent were.
But it's not just the snake catching he is good at.
The firefighter also seems to be a bit of a snake whisperer when it comes to being able to take the reptiles out of the boxes they are being kept in, give them water, and even play with them.
Watch Thai firefighter Pinyo Pukpinyo in action with the snakes he has caught in the South China Morning Post video below.
The coolest thing of all, of course, is how calm and relaxed he seems to be as he deals with these snakes. Some of which could definitely kill him.
Related: This Surat Thani house had 12 deadly snakes in it — watch how they were captured