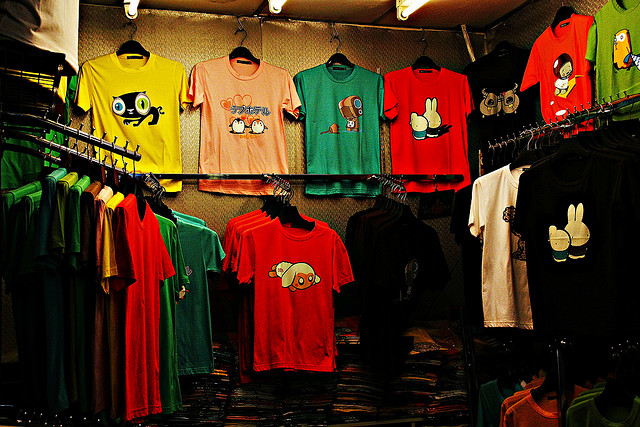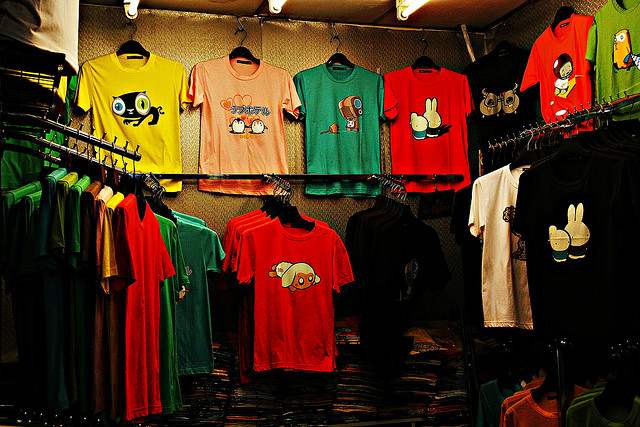 Bangkok is a shopper's paradise. Anything you want, you can buy here and usually at prices much cheaper than other countries. The quality of Thai goods is excellent and the variety is huge. This is why Bangkok is one of Southeast Asia's most popular shopping destinations.
To make your shopping experience simpler though, there are some things you should know – where to shop, how to bargain, how to ship items you buy, and how to get a VAT refund.
Where to Shop
There are literally millions of places to shop in Bangkok. From high-end shopping malls like Siam Paragon and The Emporium, to lower priced malls such as Mahboonkrong (MBK) or Future Park. Malls in Thailand have everything you have ever seen in the West and more, but at much much cheaper prices.
Credit cards are accepted everywhere and Thai shop assistants are some of the most helpful and nicest in the world. Their English language however will be limited, so expect a little frustration along the way. All part of a holiday abroad!
Smaller independent shops are all over Bangkok. Many of them have items you will not see anywhere else, and most of them have inexpensive prices.
I have bought t shirts, bags, wallets, books, gym clothes, art prints, handscreened clothing, handmade paper products, shoes, jewelry, school supplies, toys, household items, lamps, pillows, vases, wood carvings etc. from independent shops. All have been excellent quality and at a good price.
The biggest tip I can give you in Bangkok is, if you see it and like it, buy it. Your chances of finding many of the little shops among the winding lanes of the city are slim. You are also not likely to find the same things in another place.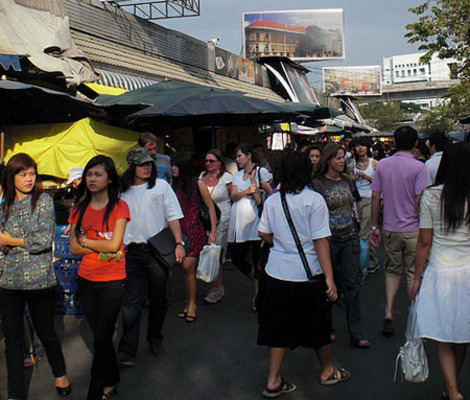 Markets are the best bet in Bangkok, they are the cheapest shopping areas, and there are hundreds of them. Most areas of Bangkok have a market on just about every block at certain times during the week.
Street sellers also set up stalls at the side of the road on almost every road in Bangkok. Here you will see watches, bags, clothing, shoes, wallets, belts, DVDs, CDs, books, magazines, wood carvings, scarves, silks, food, fruit and vegetables, fish, meat, animals, birds, snakes, anything you can think of.
When shopping at Thai markets check the quality a little more carefully, but you will usually get wonderful quality for great prices.
The largest market in Southeast Asia is Chatuchak Market, which is held on Friday evenings and all day Saturday and Sunday. For more information on this read my article How To Survive Chatuchak Weekend Market. The market is huge and you will need all the help you can get.
Bangkok also has two floating markets, where you can buy a variety of products from 'shopkeepers' who sell their wares from boats on the river. Much of what they sell is overpriced, because there are so many tourists here, but it's a wonderful place not only to shop at but also to take unique photographs.
Bargaining
Bargaining is to be expected in many places you will shop in Thailand. The only places you are not expected to bargain are the shopping malls or high-end stores. In most other places the storekeepers expect it and, if you are polite, welcome it.
Expect to be able to bargain for a lower price anywhere from 10% to 40% off, but don't be too insulting and begin your bargaining at 80% of the original asking price. I have seen some tourists do this and the shopkeeper immediately closes off to any further bargaining attempts.
VAT Refund For Tourists
Tourists in Thailand are given a refund of the 7% Value Added Tax paid at most department stores, malls, and other retail outlets (not at the markets). Look for the "VAT Refund for Tourists" sign.
When you buy in one of these shops, ask the assistant for a VAT Refund application form. Fill it in with your details and the store will validate it for you. You have to spend at least 2,000 baht at that store and more than 5,000 baht during your visit to Thailand. Also, the goods you buy have to be leaving Thailand with you within 60 days.
When you get to the airport upon leaving, you will see a desk set up for VAT Refunds. All you do is present your paperwork, your airline ticket and your passport and the VAT you have paid during your vacation will be refunded to you on the spot.
Shipping Items You Buy
Many tourists purchase things in Thailand that even the smallest shops and market stalls now can either arrange to have things shipped home for you or can point you in the direction of a place that will. The larger shops will often do it for you and will organize all the relevant paperwork, customs slips, insurance etc. The shipping businesses that are set up to do this will also do everything for you.
If you shop at Chatuchak Market there are many shipping businesses located in the market itself. The stall you purchase the items from will help you take them to the shipping office if it's a large item, and the shipping office will pack it and ship it for you. You can leave the market having spent a fortune, yet carrying nothing!
Friends of mine have also shipped thing through THAIPAC, which is a service Thai Airways offers to overseas visitors. They will ship your things to the closest Thai Airways destination in your country (example Los Angeles, LAX) and you will save quite a lot of money doing it this way.
It can even be cheaper than it would cost you to pay extra baggage allowance on your flight, and you do not have to be taking a Thai Airways flight to use this service.
Shopping in Thailand is fun. With just these few small tips however, your experience can be even more worthwhile.