Where to buy tickets for Mariah Carey's Bangkok concert at BITEC on November 9th, 2018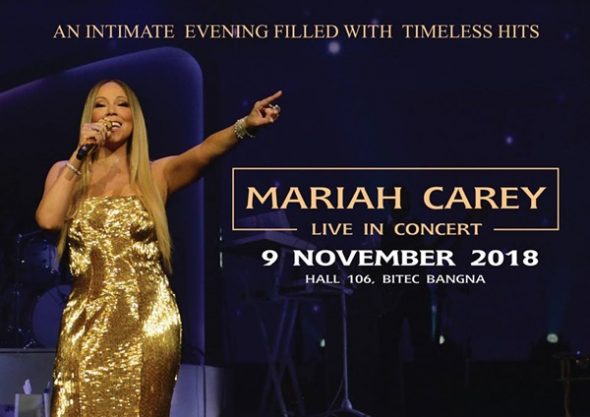 Mariah Carey to perform in Bangkok, Thailand
American singer Mariah Carey will be back in Bangkok on Friday, November 9th, 2018 for a concert at BITEC in Bangna.
It has been four years since the pop diva last performed in Bangkok, when she was here for her Elusive Chanteuse Show at Impact Arena.
The announcement of Mariah Carey's November concert in Bangkok was made on the Facebook page of Thai promoter Teddy Time, with the promise of performances of songs from "all albums".
Carey has sold over 200 million records since her career began in the early 1990s.
In recent years, she has been a judge on American Idol, appeared in the movie The Butler, made several guest appearances in the animated series American Dad, been on successful sold out world tours several times, and was recently in a two-year residency at Caesar's Palace in Las Vegas.
Mariah Carey's Bangkok concert will likely feature single hits like 'Beautiful', 'Hero, 'Touch My Body','When You Believe' and 'Fantasy'.
Carye's concert will take place November 9th at BITEC.
Ticket sales will be through Thai Ticket Major, although there is no word yet on when they will go on sale or what the various price points will be.
Stay tuned to Tasty Thailand for more information as it becomes available.
Meanwhile, watch Carey's decidely odd but very successful music video for 'Touch My Body' below to remind yourself of why the singer has had a decades-long career, and is still going strong.