Best Diving Sites in Thailand – Top Five Dive Spots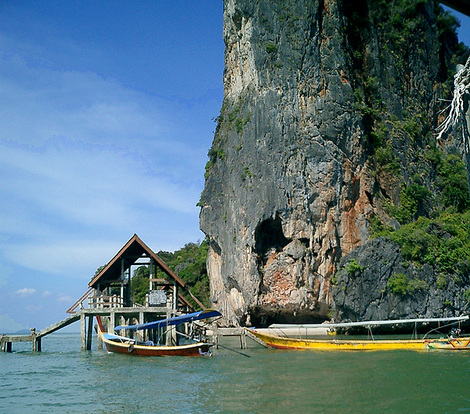 Thailand is one of the world's most popular destinations for diving and snorkeling. Not only does Thailand have some of the world's best beaches and clearest ocean, divers love Thailand too because the marine life is so varied. You can dive in Thailand all year round so, no matter when you can visit, you'll find safe and fun places to dive and snorkel for all levels of diver.
There are so many places to go diving in in fact it can be difficult to choose, but these top five places are some of the most popular with divers from all over the world.
Phuket – Phuket is one of the most popular destinations for divers and snorkelers in Thailand. Clear ocean with both shallow and deep diving locations, tons of marine life (want to see a stingray, come here!) and many diving centers and dive shops, so it's easy to find someone to take you.
Phuket is also a beautiful island in its own right, with fabulous beaches, hundreds of excellent restaurants (both cheap and expensive), night clubs, bars, cafes – anything any diver or holiday maker could want.
Best places to dive or snorkel in Phuket include Ter Bay, where you can actually dive around an old ship wreck, and Koh Dok Mai (Flower Island), where you'll find limestone caves, stingray, sharks, thousands of varieties of fish and more.
Koh Tao (also spelled Ko Tao) – Means Turtle Island and is hugely popular with Thais as well as the backpacker generation. It's inexpensive to both get there and stay there, it's pretty and the diving is superb. The only problem with Koh Tao is it's so popular, it can sometimes be frustrating as there are so many people.
If you go off-season though (before October or after April), you'll come across less people but still be able to enjoy the beautiful diving. Koh Tao is especially famous for mantas and shark.
Mergui Archipelago – A western friend, who lives in Thailand and is an avid diver raves about Mergui Archipelago. It's only been opened for diving for about the last ten years, so is completely unspoiled and with a lot less divers competing for boats and ocean. He says its not as spectacular as some of the other excellent places in Thailand to dive, but he likes it because he doesn't usually see anyone else when he's diving and there are some interesting rock formations underwater.
Krabi – Krabi is famous as being one of the best places for diving in Thailand. One of the Thai women in my office dives every month and swears that Krabi is the best place in Thailand to dive. She says the currents are often a little less strong here (Phuket has very strong currents), the marine life is abundant and its a great place to see leopard shark.
She favors Koh Lanta because of the many underwater caves to dive in, but she also dives often at Koh Phi Phi.
Koh Phi Phi is famous for its beauty but also because it was all but wiped out during the Asian tsunami in 2004. The Thai government made a huge effort to rebuild it though and, nowadays, you can't even really tell anything ever happened there.
Koh Chang – Elephant Island, Koh Chang is part of Koh Chang Marine National Park and is popular with westerners, especially those who like low-level chalets, cheap yoga retreats and detox places, but it's also equally popular for divers.
Diving and snorkeling is great in Koh Chang, as there's something for every level of diver, plus barracuda, turtles, eel, and lots of other marine life. Koh Chang also has underwater rock formations, and interesting caves.
Thailand literally has hundreds of excellent and popular diving destinations – in fact, it's known worldwide as one of the absolute best places in the world to dive. If you're an avid diver and haven't yet been to Thailand, you're missing something very special.