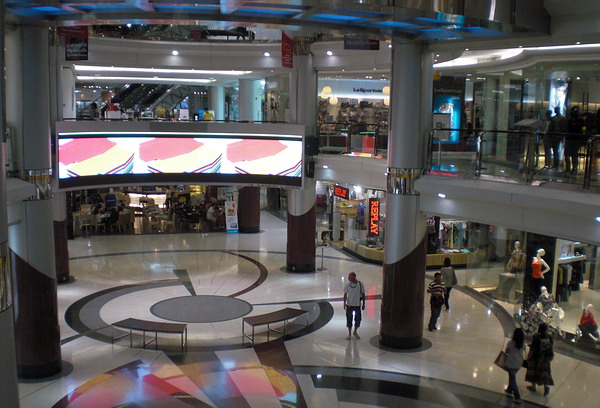 As more and more mega-malls are being built in Bangkok, Thailand, people tend to forget about shopping at the already established ones. Malls like the lovely Siam Discovery, located in downtown Bangkok near a newer mall, have been neglected in the rush for something new and exciting. As a long-time Bangkok resident, In the last few months, I've made a point of shopping at the older Bangkok shopping malls, malls like Siam Discovery, and have re-discovered just why I've always enjoyed them so much.
Location of Siam Discovery – One of the easiest malls to get to in the entire city, Siam Discovery is in the Siam area of downtown Bangkok, next to Siam BTS sky train station. Coming into town on the skytrain, if you look down, you'll see a beautiful traditional residence set-alone in a big garden. This is one of the residences of a member of the Thai royal family. Siam Discovery is directly in front of this.
Atmosphere at Siam Discovery – I love Siam Discovery as it's quiet (no loud Thai girls giving product demonstrations and screaming into microphones here), so relaxing, and nowhere near as crowded as the neighboring Siam Center and Siam Paragon. It's also full of upscale and luxury shops, so wonderfully pleasant to window shop in.
What to Buy at Siam Discovery – The mall has an excellent bookstore, Asia Books, on one of the upper floors, which has a huge selection of English books and magazines. It's known for its interior design and architecture books, as well as has a good kids' books department, and an extensive fiction section.
On the same floor, you'll find gorgeous furniture and household accessories stores, with unique items you won't see in other malls in Bangkok.
Siam Discovery has a few camera and computer shops (higher prices than the nearby discount MBK Mall, but good selections of products), a Sony shop, an Apple store, and, for the musicians in the family, a huge guitar shop, and Robinsons Piano.
For upscale clothing, look for Calvin Klein, an Armani Exchange, Diesel and LaCoste, just to name a few.
There's also a couple of wonderful stores that have been set up by charities that are headed by the Queen of Thailand, and here you'll find some stunningly beautiful Thai handicrafts and Thai-style clothing. A great place to look for unusual gifts to take back home.
Siam Discovery also has an enormous Loft store. Loft sells unique gift items, pens, notebooks, ornaments, dolls, craft items, wrapping paper, gift cards, novelty items — you name it, if it's cute and cool, Loft has it.
Siam Discovery is the location of the only Madame Tussauds wax museum in Thailand. However, it's the only thing I don't like about the mall, as tickets are expensive, and westerners are charged a far higher price than Thais.
On the 7th floor, there's a recently-opened skating rink — Ice Planet — a 2,000 square meter rink, which even has a live band.
Eating at Siam Discovery – My favorite place to eat here, for a decade, has been the Au Bon Pain restaurant on the ground floor, and I still eat there a couple of times a month. They sell the best sandwiches in Bangkok, as well as delicious bagels, wraps, salads, muffins, and cookies.Their lattes are perfect too.
Recently, Siam Discovery opened a whole new dining area on the top floors. Known as The Sky Dining, it's a great selection of restaurants, including such Bangkok favorites as Ootoya, Outback Steakhouse, Wasabi and a new restaurant called Konji — an interesting mix of Korean and Mexican food.
Let's face it, if you're looking for an upscale, relaxed, and truly lovely mall to wander around, do some shopping, and grab a bite to eat, Bangkok's Siam Discovery is the place to go.