Top Five Best Places To Visit in Thailand: Something For Everyone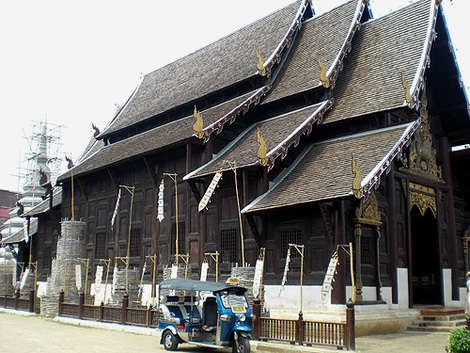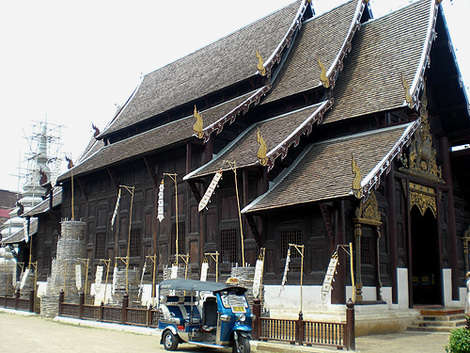 Thailand has been one of the world's most visited tourist destinations for the last thirty years. Every year, millions of tourists come to Thailand to see Thailand's famous temples, beaches, and mountains. They eat Thai food, drink Thai food, relax on Thai beaches and get Thai massages.
With so many places to visit in Thailand though, which ones are the best and the must sees?
That's easy. These five Thailand places are the best places to visit if you want the true Thai experience.
#5 -Koh Samui – One of Thailand's most famous islands, Koh Samui ('Koh' means island in Thai) is heaven for tourists. White sandy beaches, amazing diving, some of the world's best coral reefs, and clear blue water make it a sea and sun worshipers paradise and, for those who like nightlife, the famous Full Moon Party held every month is a must do.
The island is also full of tropical forests, exotic birds and wildlife and natural beauty incomparable anywhere else. Koh Samui is one of the top five best places to visit in Thailand for its unbelievable beauty and also for some of the world's best diving.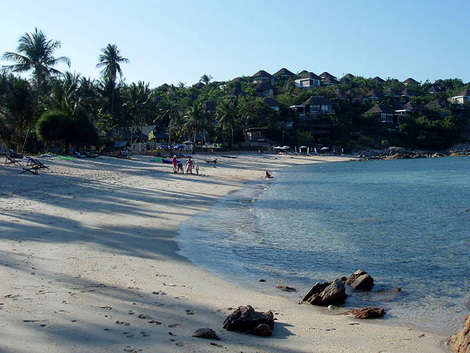 #4 – Hua Hin – Only three hours by car from Bangkok, Hua Hin is a seaside resort that's now the home of the King of Thailand. Hua Hin is quite a small town but there's definitely enough to keep you occupied. Several large main streets are loaded with shops, restaurants, cafes and internet cafes.
Any kind of food you want is available in Hua Hin but it's most famous for its fresh seafood served at many of the restaurants located on piers sticking out in to the ocean.
Hua Hin is also a great place to get made-to-measure tailored clothing, ride a horse on the beach, or relax poolside at any of the many five star hotels in the town. Hua Hin is popular with Thais as well as foreign tourists so book early if you want to visit this town.
It is not number 4 on the top five best places to visit in Thailand for nothing.
Top budget hotels in Hua Hin, Thailand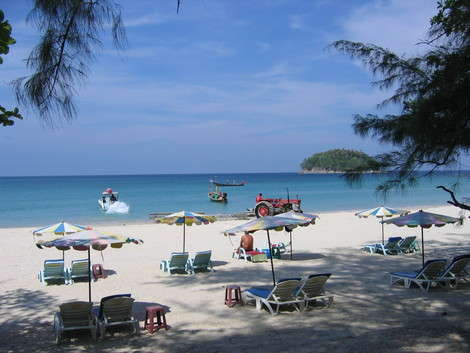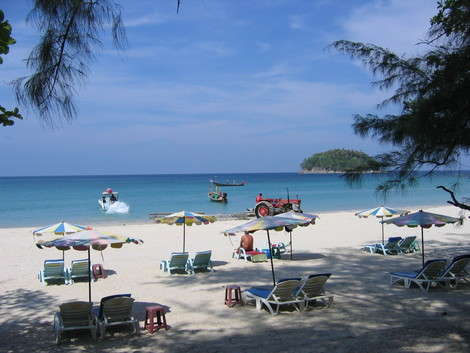 #3 – Phuket – Phuket is an island off Thailand's southern coastline and number three on my list of best places to visit in Thailand. Beautiful sandy beaches, beach huts, five star hotels, cafes, restaurants, and some of the world's best snorkeling and scuba diving is why Phuket is so popular with tourists, and one of the top five best places to visit in Thailand.
Phuket is very hot (great for those who love to sunbathe), but with the white sandy beaches and blue ocean, you don't really notice the heat. During the day, you can snorkel, scuba dive, sunbathe, ride a banana boat, or just lounge around at various cafes drinking coffee and eating cakes.
Excellent budget hotels in Phuket offering good value for money
At night, restaurants all along the many beaches serve fresh seafood, Thai food, western food and everything in between. Nightclubs are open and you'll even see fire dancers on the beaches, celebrating the gorgeous evening.
There are hundreds of beaches on Phuket from large ones overloaded with tourists to tiny, hidden ones that only a few people know about. No matter what your style, there's something for everyone in Phuket.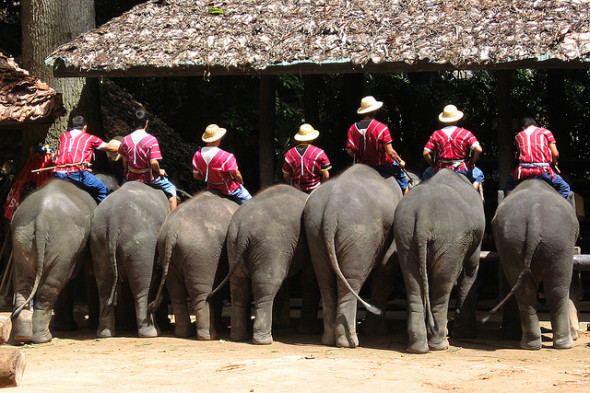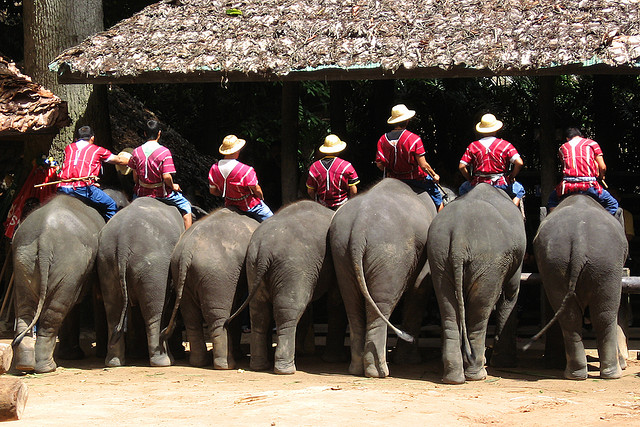 #2 – Chiang Mai – The second most visited place in Thailand is Chiang Mai, a large city in northern Thailand. Only an hour by plane from Bangkok, Chiang Mai is also the home of many western expats who wanted something a little less crazy than Bangkok. Chiang Mai is nestled in a valley between mountains and is one of Thailand's most beautiful cities.
Partly surrounded by an ancient moat and old city walls, Chiang Mai offers world-class restaurants, tiny street stalls serving unbelievable food, five star hotels to no-star guest houses, two of the country's largest night markets selling traditional Thai products, Doi Suthep temple – one of Thailand's holiest places – cafes, art galleries, and shopping malls. Chiang Mai is often a little cooler than Bangkok and the air is cleaner.
Best things to do in Chiang Mai, Thailand — this amazing city has everything
People are also even friendlier and it's a much slower pace of life. Chiang Mai is my favorite place in Thailand and is hopefully the place I will eventually retire to.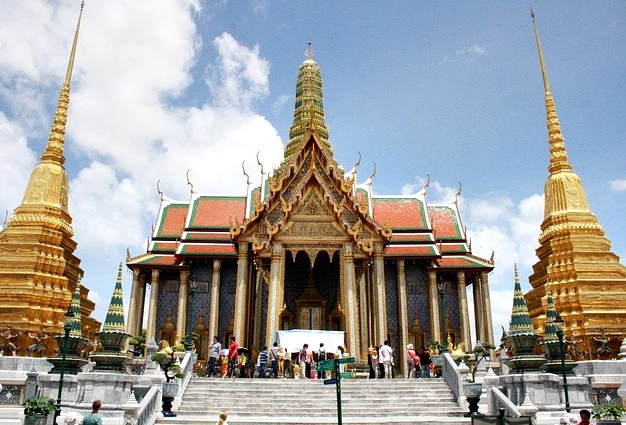 #1 – Bangkok – Bangkok is one of the top five places to visit in Thailand. In fact, it's number one. Not only is this Thailand's capital city, it's also the place most tourists will fly into. Bangkok has a reputation all over the world as being fast-paced, hot, and crazy. Sure, some of that's true, but there's a lot more to Bangkok than that.
Bangkok is home to some of Asia's most beautiful temples (Wat Phra Kaew is the most beautiful temple I have ever seen), has some of the best shopping malls in the world, serves up world-class Thai food from tiny little street stalls, has the most fascinating tourist attractions and is even a great place to bring kids.
25 fabulous things to do in Bangkok — this video shows them all to you
Bangkok is located on the massive Chao Praya River, where boats travel up and down taking people and goods to as far away as China, so the culture of the city has always revolved around the river.
You can find anything you want in Bangkok. From Thai food to international food, shopping malls and the largest open-air market in Asia, tuk-tuks and elephants, Jim Thompson House and the Grand Palace, traditional Thai and typically Western – it's all in Bangkok.
Best fun things to do on a budget in Bangkok, Thailand
Bangkok is also a huge city that is actually easy to get around, it has every price-range of hotel from basic to the most luxurious in the world, its days are filled with shopping, sightseeing and sun and its nights with clubs, bars, karaoke and restaurants. Bangkok is never boring and it has something for everyone.
Most tourists who come to Bangkok initially expect to hate it, but most often fall in love with it and can't wait to come back.
On your next visit to Thailand, make sure you visit at least a couple of these five best places to visit in Thailand. You will have an amazing vacation and see things you've never seen anywhere else, meet friendly people, eat delicious food, learn about Thai culture and enjoy some of the best weather in the world. Guaranteed.