Farm Design – the best cheesecake in Bangkok?
Farm Design is a Japanese cheesecake bakery with branches in Bangkok, Thailand, and let me just tell you — they serve the BEST cheesecake I have ever eaten anywhere. Seriously.
Sadly, though, I'd been missing out on the amazing taste of Farm Design cheesecake as I'd actually never eaten cheesecake there until a couple of weeks ago, when I was at Central Ladprao with a friend.
We'd eaten lunch at S&P, but were jonesing for coffee and dessert. Unfortunately (or……fortunately for us and for Farm Design), every coffee shop we normally go to at Central Ladprao was packed as it was a local Thai holiday.
Then my friend, a big everything-Japanese freak. suddenly spotted Farm Design, let out a shriek of "Hokkaido milk" and went on to tell me Hokkaido, Japan is world-famous for its delicious milk, as their dairy cows grow up eating rich grass and breathing in fresh air.
We then discovered that Farm Design is a small cheesecake bakery and coffee shop that sells a variety of flavors of homemade cheesecake, all made with Hokkaido milk.
After salivating for a few minutes as we gazed at all the cheesecake on offer, and not knowing which one to choose as they all looked so amazing, we decided to go with the original — just plain cheesecake – as well as two iced lattes.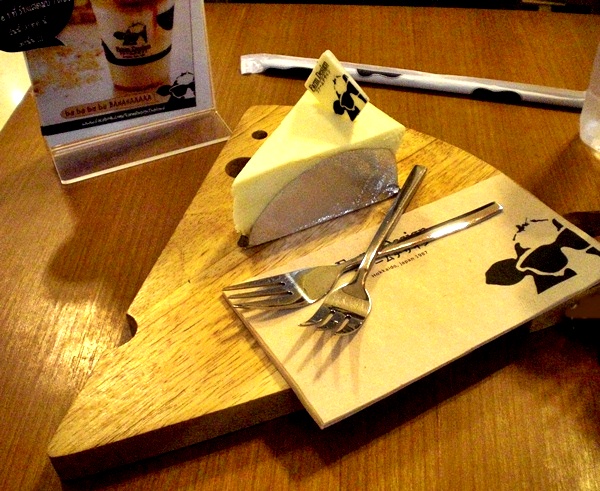 Now, of course, I base whether I like a food or not on how it tastes but, I have to admit what also I loved about my slice of Farm Design cheesecake was how beautiful the presentation was, as it was delivered to our table displayed on a large wooden cutting board shaped like a slice of cheese.
But, what made Farm Design cheesecake even more incredible was the taste. Rich, creamy and so incredibly milky, I've never tasted anything like it.
I will, however, be tasting something absolutely like it again this week (well……in other flavors), as Farm Design cheesecake just became my favorite Bangkok dessert.
If you too haven't tried Farm Design cheesecake, you really are missing a treat. Luckily, you'll find them at Central Ladprao, Terminal 21, Central Rama 9, Central World Plaza, Emporium, Fashion Island and various other malls around Bangkok, so you won't have to go far to eat some.
Meanwhile, check out more beautiful photographs of their incredible Hokkaido milk cheesecake on the Farm Design Facebook page. Yum!
Related