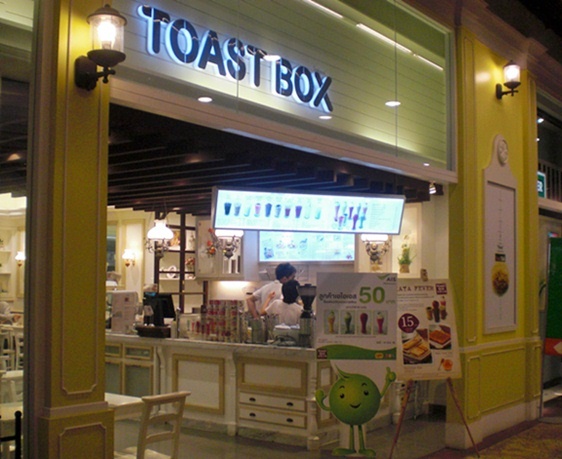 If you love to sit down at a casual restaurant and be served something that can only be described as 'comfort food', then Toast Box in Bangkok, Thailand is sure to please. It's a Singaporean franchise with branches all over Bangkok, which serves coffee and toast (of course!) as well as some very tasty meals.
Start your day off at  a branch of Toast Box in Bangkok with a couple of slices of toast spread with jam and butter, or the traditional honey-flavored 'kaya'  (eggs, sugar and coconut milk, which is then flavored with pandan). Or, you can try the incredible Singaporean-style eggs — poached and then topped with a thick, salty soy sauce — incredibly delicious, especially when eaten with buttered toast.
For lunch, Toast Box also serves light meals like the Malaysian treats, nasi lemak, and mee siam, or a bowl of spicy chicken curry. Awesome if you love comfort food.
And for dessert, of course, you can't miss the thick slices of toast topped with big scoops of ice cream and whipped cream. Yum, yum, yum.
Toast Box, by the way, is owned by the same company as BreadTalk, so you'll often find the two restaurants side by side. Weirdly, I've also heard people say Toast Box is expensive in Singapore. In Thailand, it's incredibly cheap — especially for the high quality food you get and the large portions.
My favorite Toast Box is at Terminal 21 (see photo above), but you'll also find them at Siam Paragon, Central World and Suvarnabhumi Airport in Bangkok, just to name a few.
You can find out more about the Toast Box story and Toast Box concept at the company's website. Meanwhile, why don't you head to Toast Box in Bangkok the next time you're feeling like delicious, filling comfort food. I promise, you won't regret it.